Behavioural Consultation
Damian has dealt with all manner of behavioural problems and has a superb track record in the field. He works on referral from over 30 different veterinary practices in Cheshire and South Manchester since 2008. He guarantees honest and realistic advice for your situation.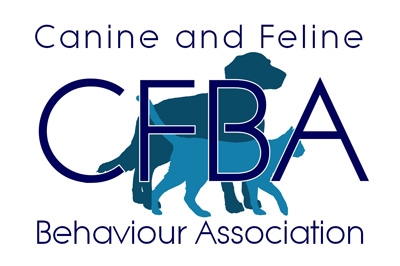 A behavioural consultation is needed for issues such as;
Dog to Dog Aggression
Dog to People Aggression
Seperation Anxiety
Phobias
Copraphagia
Destructive behaviour
Excessive barking
Food Scavenging
Car Sickness/Travel
New baby introduction
Hypersexual Behaviour
House Toileting Issues
If you and your dog are struggling with any of the above behavioural issues or similar, our process for arranging a behavioural consultation with us is as follows:
We will then call you for an initial conversation with Damian to discuss the behavioural issues
Damian Riley MCFBA MGODT (MT) is a fully accredited Member of the CFBA and as such, your pet insurance policy may assist with costs. Each insurance company has its own criteria of what it deems a behavioural problem, which the client can discuss with their insurance company prior to booking an appointment. The Canine and Feline Behaviour Association (CFBA) is accepted by Pet Insurance Companies who cover behaviour problems on their policies and meets their criteria for excellence in the field.
The Veterinary practice can contact Damian to pass the client and case details directly or the client can do this themselves.
(Clients do not have to claim via their insurance policy should they not wish to do so).
The cost of a Behavioural Consultation is between £400 and £600.
Damian will discuss with you the issues and their complexity and advise on the course of action to be taken. The length and structure of the session can then be decided. This is usually a half-day session (3hrs) or a full day session (6hrs) depending on the complexity/number of issues you may be having. Each behavioural consultation includes a written report and training plan and also 30 minute follow up session via zoom. The location of the Behavioural consultation will be discussed too, this is dependent on the issues you are having. Following this discussion an appointment date and time is agreed with our office and an email confirmation will be sent out.
An accurate diagnosis of your dog's behaviour can be very difficult to achieve. We therefore require our clients to complete a comprehensive Pre-Consultation form prior to the appointment. This will be sent with the booking confirmation email. Also contained in the booking confirmation email will be a payment link for the deposit required to secure the appointment.
If you are going to go through your insurance, then we require your Vet to complete a Vet Referral form. The CFBA Vet Referral form can be found
on this page
. When you request the completion of this form by your Vet, please also request from the Vet the dog's full medical/clinical history, these can both be sent direct from your Vet to our email address
admin@damianriley.com
Following the consultation, we will provide a full Behavioural Report and Training plan tailored to you Dogs needs/issues. We ask that you do keep in regular contact over the following 6 weeks (prior to the follow up session) and if you have any questions, we can address these via phone/email as frequently as necessary.
Usually, 4-6 weeks from the initial consultation, we have a 30 minute follow up session via zoom. We can then assess the dog again and monitor the progress made.
We currently have 4 dogs for sale at various stages of training.  2 are springer spaniels and 2 labradors. Please give me a call to discuss on 07798701619
You can contact the office either by phone/text, by email or by completing our online enquiry form where a member of the team will be happy to help. We are happy to discuss with you your dog's needs and will give the best advice and guidance to get you and your dog the correct behavioural help and training.
07538 790 185 admin@damianriley.com